7 Sins slot machine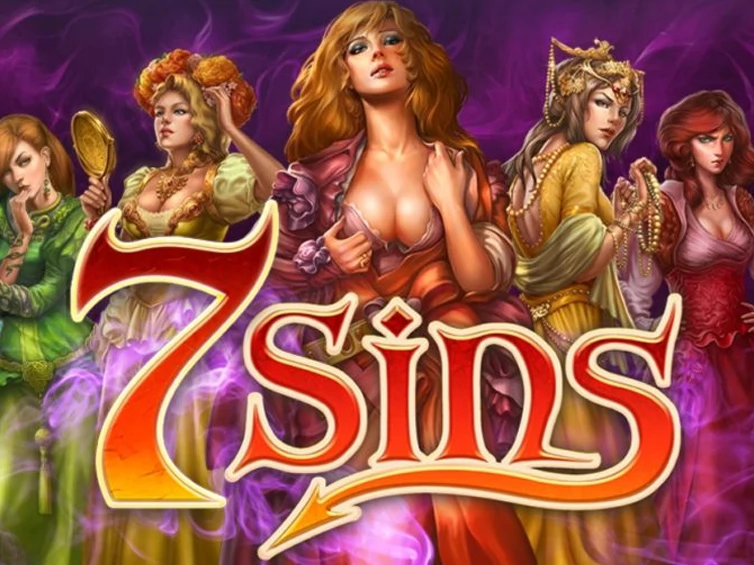 7 Sins is an alluring slot machine in several respects. Not only does this slot machine from Play N Go revolve around the seven deadly sins, but also a very seductive lady is central to every sin.
These well-formed ladies look absolutely stunning, you would almost forget that there is also something to gamble.
The 7 Sins slot machine is a slot machine that works according to the win-any-ways principle. There are no fixed paylines, but all scattered combinations from left to right count as winning. There are 243 possible ways to win at 7 Sins.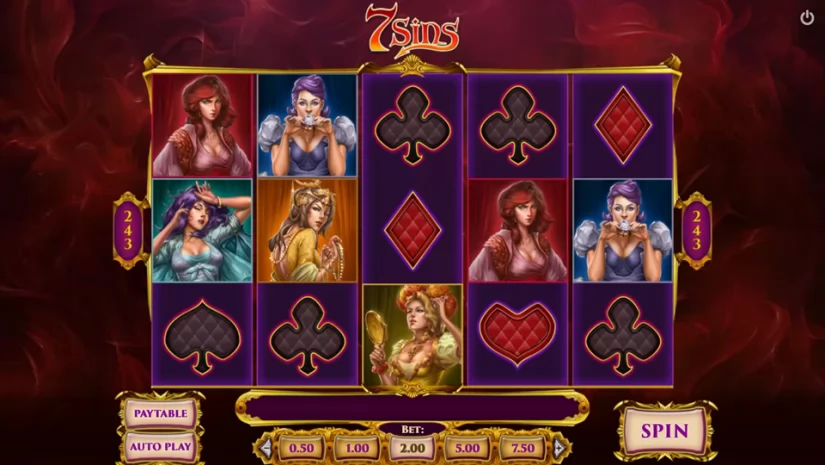 What is the payout percentage of the slot machine?
The payout percentage of the 7 Sins slot machine is 96.28%, so fine. The variance of 7 Sins is medium to high: in the basic game, large payouts are rare, but in the bonus game, big winnings are all the more common. So make sure you have a good balance before you play this slot machine, otherwise you have a chance of playing yourself broke before the bonus falls.
How does slot machine work?
The playing field consists of 5 reels with 3 symbols per reel. As mentioned, there are 243 possible ways to win. This slot game is very nicely designed, with a mix of the 7 ladies (the deadly sins) and the more traditional card symbols. You do not pay per line but a fixed amount per spin. This already starts at 0.10 dollars per spin and goes up to 100 dollars per spin for the high bet player. We prefer to play this slot machine ourselves with a bet of between 0.50 dollars and 1 dollars per spin. Of course there is also an autoplay option for when you want to iron your laundry while playing or do your exercises on the exercise bike.
During the basic game, the payments are small, unless you manage to play a five-of-a-kind in combination with 1 or 2 double jokers. The highest attainable combination is 7-of-a-kind from Sevens, which is good for 700x the bet per spin. Seven of the ladies in a row gives you bets between 100x and 250x.
The bonus round of 7 Sins: free spins with a multiplier of up to 7x!
If you spin three scatter bonus symbols, you win 7 free spins. All low symbols are taken out of the game and every spin focuses on 1 of the graceful ladies. After each spin, the multiplier increases 1x and the symbols get more value. A very exciting bonus round, where you can grab big payouts. Retriggers are not possible with the 7 Sins bonus round.
If you only play 2 scatters during the basic game, there is no reason to panic. The second chance feature is then activated, giving you a free chance of:
that so wanted last scatter
a cash prize of up to 15x your bet
A losing spin can easily be turned into a winning one!
What do we think of 7 Sins?
Play N Go makes ever more fun slots with unique bonus rounds. The Play N Go design team is also doing better work graphically. 7 Sins is therefore a very successful online slot machine, with a striking theme and a nice second chance feature.
The only downside for us is that the payouts are somewhat unbalanced. Sometimes you win in nothing to little in the basic game, but again a lot in the bonus game. We thought that a slightly better balance would have been possible. Nevertheless, a big pass for 7 Sins.