Cards Roulette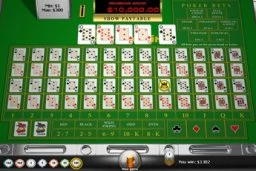 Cards Roulette is a quality and extraordinary hybrid of two most popular gambles – poker and roulette. The last one offers its game field for making bets but it has poker card values and a couple of Jokers instead of numbers. There are cards instead of wheel as well and you are to choose the most useful one.
Game rules
Before starting, it is necessary to determine the betting limits. Playing is on face to face with croupier. You are offered to choose among three types of betting limits: Standard (bet values from 1 cent up to 10 dollars), High Bets (they are more serious and their minimum is 1 dollar, maximum – a hundred dollars), VIP (this is the choice of professionals and simply lovers of good playing where the betting values are from 5 up to 1000 bucks).
In Card Roulette, there is an opportunity to make bets on single cards, card suits (clubs, diamonds etc.) and card values as well. Bets on Joker are not passing by, too. You may bet on red or black, even or odd. There is also separation of bets on cards from 2 to 7 or from 9 to Ace. "Poker Bet"field allows you to bet on poker combinations that makes this roulette more unique and attractive. By the way, you are almost not limited in betting. Like in traditional roulette, you may make different types of bets. You are allowed to bet on both poker combination and roulette combination at the same time. As you can see, there are many combinations and paytable will help you not to be confused in them.
Each game starts from making a bet. To make a bet you need choose its value and place chips onto preferred cell (or cells). If it requires remaking a bet, it can be easily done thanks to respective function. You may bet chips of various values that is very convenient. Like in traditional
roulette
, you can close 2-4 cells with one chip at once.
When all bets are placed don't forget to click"Spin"button, it is down in the lower right corner of the screen. The game is starting! Dealer will put five cards on the table face down. Your goal is to choose one of them. Exactly that one will be the fallen number. Then all rest cards are opened and checked for falling of any poker combination. Winning sum from played bet (or bets) is immediately transferred to your balance strictly according to payout odds. Do you believe in your luck and being able to repeat this exactly?
Then use bravely "Repeat" button that is in the lower right corner and the chips will take their former positions like in just ended game session. However, it doesn't mean you can't complete or change chips arrangement. If you don't like placed chips, click"Clear"button and all of them will get back to you. Bet value changing is allowed until the cards will be given. If you clicked "Play" button and the dealer started dealing cards you cannot change or cancel your bets anymore.
Thanks to this unique betting system, any playing for money becomes more effective and profitable in several times. However, if you are not familiar with roulette and poker, play free without registering just for training.