Jacks or Better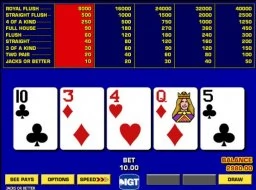 "Jacks or Better" video poker is rightly considered simple and perfect slot of this category. In this game player has a real poker task – to collect a 5-card poker combination. The higher and stronger the combination is the more winning you get in the game session that matters in playing for real money. However, you may see how it works and play it for free and without registration.

The description
There is a traditional 52-card deck in the game. Each session starts with player's betting on current dealing. Having made a bet, click "Deal. The video slot will immediately deal you five cards like in real poker.

You should take a close look at the combination you have in order to decide what cards remain with you until the end of session and what ones you want to replace for collecting stronger combination.

For instance, you got a couple of Aces while dealing. They already form a winning combination and that is a strong one. Your reasoned turn is to keep this couple and to replace the rest cards for getting a stronger combination.

To do this you need mark the cards you want to keep clicking "Hold" button under needed card. You may do it simpler clicking by the left button of the mouse on card icon by itself. To replace needed cards just click "Deal". The slot will immediately provide you with replacement of all cards not marked as "Hold". Afterwards the system automatically determines what winning combination you have collected. Having got a couple of Jacks or higher you may either play a double game or let it stay.

Win doubling in "Jacks or Better" video poker
To get your win simply click "Cash out". Those who want to double their winning should click "Gamble". Playing a double game is very easy because risk-gaming process is not boring and can continue for a long time. So, you will see 5 cards. One of them is already open. To win you are to divine a closed card higher than the opened one. If the opened one is Ace, you will be unfortunately scored a bust.

However, if you divine the higher card, your win will be doubled automatically. Otherwise, if the opened car is lower, you will lose at once and not only your current winning but also the starting one. If it is draw, you will be provided with one more try and you may either continue or refuse playing.

Any successful doubling lets you double your win over and over but until your first mistake as usual.