Crazy Monkey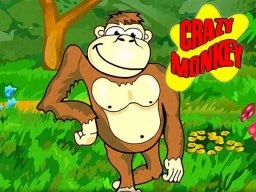 "Crazy Monkey" slot machine is rightly considered to be one of the most interesting and popular slots. All its content is attractive and eye filling. Original interface, interesting sound effects and gambling process will hold you for a long time. You will meet many interesting characters while playing. Monkey, the slot's hostess, will lead you to the treasures through impenetrable jungle.
"Crazy Monkey" game description
On the way to the treasures, you'll meet very interesting and valuable artefacts. One of them is the skull Monkey plays with. Having gathered 5 of these artifacts on one play line, you immediately increase your balance to 2000 credits. Very serious characters, for instance, the lion, secure the treasures. However, having gathered them for 5, you get 500 credits. After all, the Monkey icon is the most desired, because gathering 5 of this one you get 5000 credits!
The researchers tried to make all in this game attractive, even the bonus game that differs from other
games
with consisting of two stages. On the first stage you are to help Monkey to get the banana hidden somewhere at the top. Choose a rope, pull it and get either a banana or a stone on your head. The stone means game over, and if you get a banana, turn to the second stage. On this stage, Monkey will offer you to choose one of two tablets with digits meaning the odds your win multiplies. You may win over 150 000 coins in this bonus game. This piece of jack is worth struggling for.
These are not all exciting things. Monkey will offer you to double each winning combination. Certainly agree, because it is easy to walk over her. You just need to drag a card higher than hers. If your luck will play you false and the card will be lower, you'll not get winning now but always can win it back in future.
Playing "Crazy Monkey" for free
We offer you for free and without registering to plunge into exciting world of jungle, ancient tribes and secret treasures together with "Crazy Monkey". Playing for money, you can easily win from the jungle habitants their treasures, because the slot's payout is 97%!