Best online casino

»

News

» The Battle of The Titans "SlotV vs. Mr Bit": Which Casino Has The Best Promos During This Holiday Season?
The Battle of The Titans "SlotV vs. Mr Bit": Which Casino Has The Best Promos During This Holiday Season?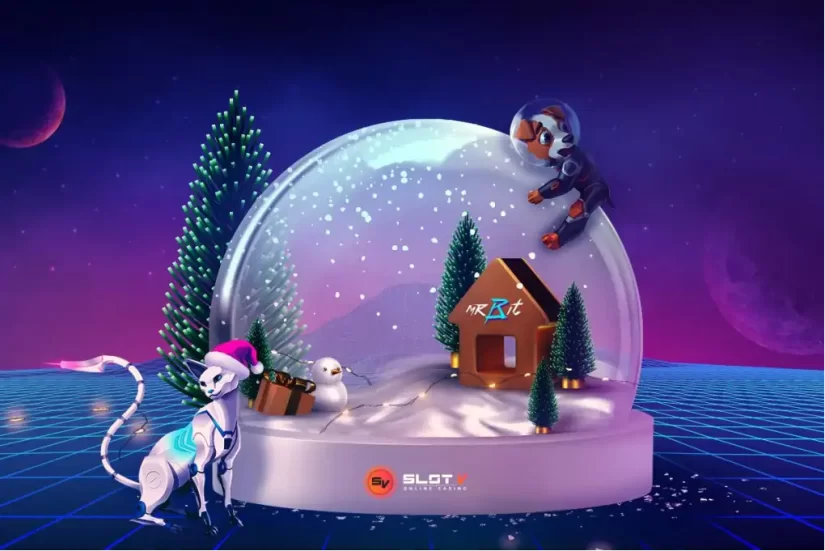 This is not the typical David versus Goliath battle. This is a "battle" between two reputable and licensed online casinos — SlotV and Mr Bit — that have both organized tons of amazing promos and tournaments to celebrate the holiday season.
SlotV
is an adventure-themed casino, where two mascots, the spaceship captain Victor and his loyal companion Winner (who happens to be a dog), will navigate players through this adventurous casino brand that has been offering amazing perks to its players since its creation back in 2017.
Mr Bit
, on the other hand, is an ultra-modern, cyberpunk casino that has a cat, Mr Bit (who doesn't, however, bite), as the main mascot. There's also the virtual assistant, named K@te, who makes sure that all the queries that might arise are addressed in the most effective manner.
What these casinos have in common is the fact that they both started celebrating early on, at the beginning of December. And while loads of the Christmas-themed activities on these two casino brands already belong to the past, the number of remaining promos is still outstanding, making the comparison of their offerings a worthy endeavor.
So let's get started: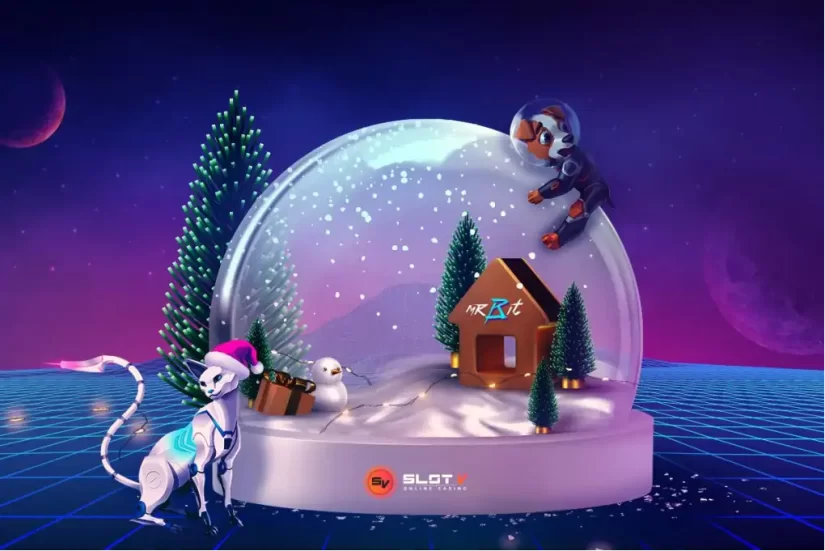 Mr Bit
From December 17 up until December 23, Mr Bit is running the "Cyberpunch" tournament powered by Microgaming, one of the top game providers in the iGaming industry. The tournament comes with a €5,000 euros prize fund up for grabs. The action continues with the "Secret Santa" tournament from Playson, which features a mind-blowing prize fund of €80,000. The tournament lasts for ten days and runs through December 30. Then, there's the "Amatic New Year Express" tournament, also with a €5,000 prize fund, featuring slots from Amatic, that runs from December 25 through December 31. Finally, from January 2 up until January 8, there's the "Pragmatic Slots Carnival" tournament that comes with the same prize fund and starts the New Year on a positive note.
Players can access more info on the active tournaments, the dates, the rules, and the qualifying games by visiting the relevant section on
www.mrbit.com
.
Mr Bit will also treat their players with a Christmas Cashback up to 25% and has created a unique advent calendar that is available on their website. Each day from December 1 up until December 31, players can access the advent calendar, click on the card of the given date and claim the amazing bonuses hidden within it. While most of the bonuses require a deposit, some of these cards hide non-deposit bonuses underneath them, so don't forget to check the website daily and do not miss out on your chance.
SlotV
SlotV, on the other hand, has three tournaments and three lotteries left. Each of the tournaments comes with €10,000 up for grabs, while the lotteries have a €5,000 prize pool each. Just like Mr Bit, SlotV has some special gifts prepared for their players, so keep reading to find out how to get the best out of your Christmas experience at this adventure-themed casino.
The "Fun & Frosty" tournament powered by Amatic kick starts on December 14 and runs through December 20; the "Taste of Christmas" tournament organized by SlotV features slot games from Pragmatic Play, runs straight after the "Fun & Frosty" tournament, and ends on December 27. Finally, the "New Year Quest'' tournament involves games from a leading game provider, Red Tiger, and will be over by January 3.
Players will also get the chance to stumble upon unique cases prepared by the team at SlotV while these tournaments are running. Therefore, by taking part in these tournaments, there is a chance for you to discover mystery cases packed with free spins from Amatic, Pragmatic Play, and Red Tiger. On top of that, there are two special cases, the "X-mas mystery case," hiding bonuses (even non-deposit ones) that can be used in themed slots, and the "New Year Mystery case" available for two days starting December 31.
Besides, there will be three lotteries — "Christmas tree on the Orbit," "Christmas Eve," and "Magical Midnight." The action will be available at SlotV Casino through January 3, so head over to
www.slotv.com
, select "Lotteries," and access more info on how to take part in these holiday-themed lotteries.
Finally, SlotV will also offer personalized gifts to some lucky players that can either be discovered in the promo section from your personal account or will be forwarded to you through a special newsletter.
It's safe to say that both Mr Bit and SlotV have amazing promos, offers, and tournaments lined up for their players. The prize funds are impressive at both casinos, and the extensive list of winners that can occupy the leaderboards ensures that more people will get something extra this Christmas.