Explosino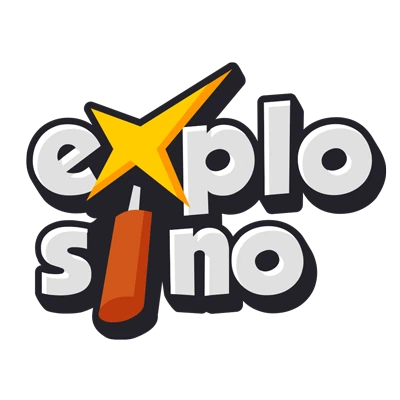 Visit Site
Bonus up to 100%
Choose the welcome bonus package and explore Explosino.com Make the first deposit and receive a 100% bonus up to 500 EUR, as well as up to 100 free spins on the second day as a gift.

Use the 100% Welcome Sports Bonus and double your bets!
Multiply your victories in ExplosinoSport!

Activate the Ultra mode and get a bonus on any of the current promotions on the most favorable terms. Increased size and minimum wager - take full advantage of bonuses!
Specifications
Convenience of payments
5
Review Explosino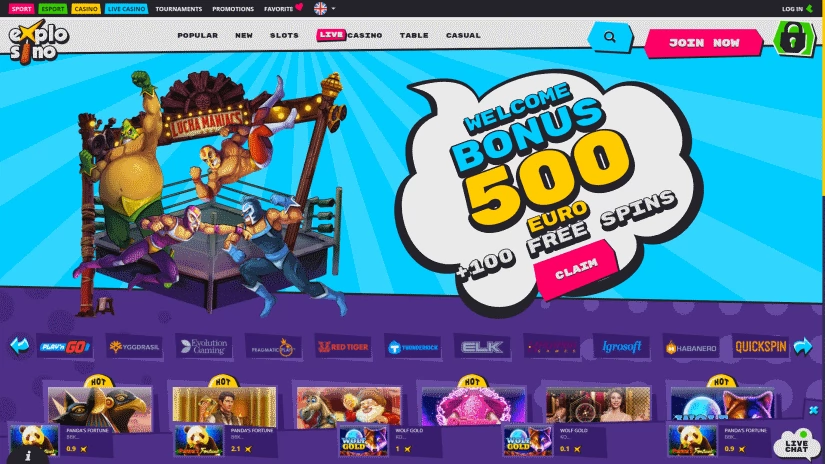 Explosino is a relatively new and well received online casino. It is licensed in Curacao and owned by JocSystem N.V. LLC. Explosino sets itself apart through its unique and finely designed interface. The visuals and graphics used in both games and on the website pages itself are top-notch. Explosino offers games like Blackjack, Poker, and Roulette, and a few are even available with a live casino option.
All of this comes together to make navigation and play extremely easy. Players can casually scroll through the homepage and join any game that interests them. If you want to see for yourself, you're in luck! Registration only takes a few minutes. All you need to create an account is an email address or social media account.
Bonuses
Explosino offers a variety of bonuses, the most exciting of which is their No Deposit Bonus, where players can receive 20 free spins without depositing anything. All players need to do is use the promo code:
20EXPLO
They also offer many welcome bonuses: The Standard, Dynamite, and Bomb. The Standard welcome bonus gives players a 100% bonus for first deposits up to €500.00 EUR and 20 free spins at €00.10 EUR per spin. The Dynamite bonus gives players a 100% bonus for first deposits ranging from €50.00 EUR to €500.00 EUR. Players also receive 100 free spins at €00.20 EUR per spin. The Bomb bonus gives players a 100% VIP bonus for any first deposit above €500.00 EUR and 100 free spins at €00.50 EUR per spin. Wagering is ×30 with a max bet amount at €10.00 EUR.
In addition to these hefty welcome bonuses, Explosino also offers many other exciting promotions. The Sports Welcome bonus gives players a 100% bonus on their first deposit, ranging from €10.00 EUR to €50.00 EUR, to the sports section.
The Reactive Weekdays bonus offers players up to a 70% bonus from Monday to Friday. The minimum deposit for the 30% bonus is €50.00 EUR, while the minimum deposit for the full 70% bonus is €200.00 EUR. Wagering is set to ×40 and the maximum amount awarded is €500.00 EUR. However, using Ultra Mode allows players to get the 70% bonus for a minimum deposit of €500.00 EUR. Wagering is ×30 and the max wagering bet is €10.00 EUR.
Using the Explosive Weekends bonus, players receive a 20-40% bonus and 20 free spins for deposits over €50.00 EUR made on Saturday or Sunday. On deposits ranging from €100.00 EUR to €500.00 EUR, players will receive a 40% bonus and 40 free spins.
The Starfall bonus gives players a 20-50% bonus on deposits ranging from €50.00 EUR to €500.00 EUR, between Monday to Friday. Wagering on both these bonuses are set to ×40.
Ultra-Mode can be combined with many bonuses to add increased value. To get this feature, deposits need to be over €500.00 EUR, while the maximum winning amount from any bonus is €1000.00 EUR.
Loyalty points, aka 'Expoints', are awarded for every €50.00 EUR wagered using real funds. Expoints are converted to bonuses depending on your account status. The max withdrawal amount for funds received from all bonuses is €1000.00 EUR.
Jackpots
Some games feature progressive jackpots with cumulative winnings. They can be found on the game selection page. These pose great opportunities for players looking for a game that will keep them on edge and offer bigger winnings.
Weekly Tournaments
Although tournaments are not currently offered on the Explosino website, they are developing them as we speak. Players can look forward to tournaments in the future, an exciting potential for Explosino to fulfill.
Games
Explosino games are created by some well-known developers, like Wheel of Wishes and Slots Angels. Explosino offers over 2000 games, including classics like Slots, Blackjack, Baccarat, Poker, and Roulette. Explosino also has a fully inclusive Sportsbook featuring popular athletic championships and matches, like football, hockey, and cricket. In addition to physical sports, they also feature esports like Dota 2 and Call of Duty.
Live Casino
Explosino players have the option of using a live casino. In the live casino, players are able to view a real dealer at a real casino, which gives them a more traditional casino experience. It's perfect for those who are unable to visit a casino on their own, as well as those who simply want to enjoy that atmosphere from the comfort of their own home. This also includes an option for video slots, a great alternative for players who want a more laid-back experience.
Payment Methods
Explosino accepts Visa, MasterCard, Visa Electron, Neteller, Skrill, PaySafeCard, and Trustpay. Explosino also accepts cryptocurrency through BTC and Ethereum. Your identity is essential to ensuring your payments are secure. When creating your account, remember to enter your full legal name because you may later be asked to verify your identity. Deposits have to come directly from your accounts, so using third parties like friends or family, is not allowed. Withdrawals are processed within 24 business hours. The maximum amount of funds you can withdraw are €1500.00 EUR per day, or €9000.00 EUR per month. Explosino is also a trusted website, so you can be certain your information will stay safe.
Conclusion
Explosino is definitely a heavy hitter. With great visuals to back up their games, and an extensive catalogue of games to boot, players are sure to find something they will love. Although they lack tournaments, they do provide a variety of games, as well as a complete sportsbook section and a live casino option on top of that. There's more than enough on the site to keep you busy.
Working with great developers has paid off and players reap the benefit. They really go out of their way to ensure their players are comfortable, offering both accessible customer support and adaptive design technology, as well as satisfying bonuses.
Overall, Explosino excels in all respects. They are a great addition to the online casino community and are only expected to continue developing. Explosino definitely has a bright future ahead of it, so they have our full endorsement. We recommend you check them out yourselves, you won't be disappointed.
Pluses
Explosino offers great customer support, with a 24/7 live chat available in both Russian and English. Alternatively, players may use the email or phone number available on their website.

Their adaptive design makes playing on mobile devices easy and comfortable. They also use the best technologies for their design and development, so their interface is intuitive and their games crisp.

A host of bonuses, from their No Deposit Bonus, Welcome bonuses, and other regular bonuses, make playing easier and more incentivized for players.
Minuses
Although in construction, Explosino doesn't currently offer tournaments, which are an important part of online gaming.
Explosino is restricted in some countries, such as the United Kingdom and the United States, which limits its range of players internationally.